---
Thomas Lowery Renovations and Repairs
Decks – Sun Rooms – Fences
---

Over 30 years of framing and building experience in  Central Alabama.
If you've found this site, you're not only looking for a trustworthy carpenter, you're searching for a skilled craftsman who guides you through the planning and building process, delivers quality work that's on-schedule, and stays within your budget.
And you've found me.
My name's Thomas, but you can call me Tommy.
I've been framing and renovating homes in Central Alabama for about three decades. And I've got the callused hands to prove it.
I've just about done it all — I've framed homes upwards of 20,000 square feet. I've built domes, coffin, tray and other specialty ceilings. You need a custom deck? Or for your crumbling deck to be restored? Done. You want to add a screened porch to your home? Or convert part of your deck into a covered porch? Let's do it.
Long story short, I love what I do. I get to be creative and build things that last for decades.
If you're planning a project and feeling a bit overwhelmed, stop what you're doing and give me call. What you need is guidance — a professional with years and years of experience to answer your questions, help you nail down a budget, and discuss the pros and cons of certain design elements.
I'll help you discover what you really need from a space, how to express your personal style, and how to achieve your vision without overspending.
Don't let another season pass you by. All it takes to start your project is a quick phone call: (205) 965-1117.
It's that simple.

Privacy fences, dog enclosures and deer fences.

Mantles, columns, exposed beams and more.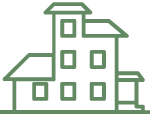 Arbors, pergolas, pavilions, sun shades and accents.